Opposition BJP chief Suvendu Adhikari blamed BJP leadership's overconfidence for their loss in the West Bengal Assembly polls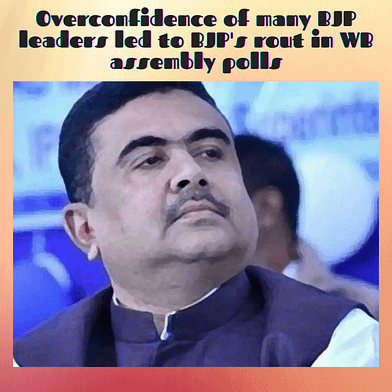 Suvendu Adhikari, the prominent BJP leader of West Bengal, blamed BJP leadership's overconfidence for their collapse in the state Assembly poll this year. Moreover, he challenged West Bengal CM Mamata Banerjee that she won't beat Suvendu in the Nandigram seat ever. According to him, recounting the votes or fake allegations will not help TMC in Nandigram.
Previously, West Bengal CM pledged Calcutta High Court to pass an order for vote recounting at Nandigram.
The internal conflicts of opposition of BJP keep ongoing:-
Trinamool Congress secured 214 seats out of 292 constituencies in the last assembly election under the leadership of CM Mamata Banerjee. BJP leadership witnessed a total loss in that assembly election and did seats according to their expectation.
Previously, BJP leadership predicted winning more than 170 seats in the 2021 West Bengal Assembly election. As per Suvendu, Bharatiya Janata Party performed well in the first two poll phases of the East Midnapore area. Therefore, many of their leaders became overconfident and did not concentrate on their political campaigns. As a result, they did not understand the ground situation of the state.
Hence, the lack of groundwork is the main reason behind BJP's collapse in Bengal. However, Kunal Ghosh, the spokesperson of TMC, said that Mamata Banjerjee's welfare activities and development helped Trinamool get a massive victory in Bengal. People elected the TMC government again as they have faith in them. Besides, he criticized the Indian Prime Minister and other heavyweight leaders of BJP for organizing high decibel campaigns against the Chief Minister.
The political experts said that BJP leadership should reconstruct their grassroots formation to achieve success in West Bengal. According to their prediction, this assembly election may have a massive impact on the upcoming Indian General Election in 2024